hotel | catalog ads | auction | room with a view
Hotel Information
Westcoast Long Beach Hotel
700 Queensway Drive
Long Beach, CA 90802
562 435-7676

Rates:
Single/Double $99
Triple $109
Quad $119
Damage Deposit (refundable) $100

NO RESERVATIONS BEFORE JANUARY 1, 2002




RV Parking On Site
25 sites by reservation
No hook-ups
Outdoor cooking and generator restrictions
$30/site

RV Parking Off Site
Golden Shore RV Resort
101 Golden Shore
Long Beach, CA 90802
(directly across Harbor from hotel)
562 435-4646 800 668-3581 www.goldenshore.com
10 adjacent sites reserved for BTCA
Full hookups
2 dog maximum
$202/week, $1/day/dog
$1/day energy surcharge

Advertise in the National Specialty Catalog!
Now is the time to make yourself known! Place an ad in the national specialty catalog if you would like to:
· Brag about your dogs
· Announce new titles
· Thank a special someone
· Remember dogs (or people) that are no longer with us
· Share cute Border pictures
· Advertise products
· Or just announce something special
The rates are great and we would like to fill up the catalog with lots of great pictures and information.
Rates:
Full Page (4 1/2" by 7 1/2") $40 + $12 per photo (maximum 2 photos)
Half Page (4 1/2" by 3 3/4") $25 + $12 per photo (maximum 1 photo)
Quarter Page (4 1/2" by 1 7/8") $15 (no photo)
What to send:
Please send original photographs with your advertising copy. All photographs should be clearly identified with your name and address. Please include an email address or phone number so we can reach you if you have questions.
Send a self-addressed stamped mailer so we can return your photos.
Where to send them:
Sarah Saucy
3902 S. W. Canby St.
Portland, OR 97219
Telephone: 503 245-6257
Email: sarahs@pacifier.com
Sarah must receive all ads by May 10, 2002
Any ads received after this date cannot be included in the catalog.
We Need Your Good Stuff
2002 BTCA Somewhat Silent Auction
Yep, it's getting to be that time of year! The BTCA will sponsor a (somewhat) Silent Auction at the National Specialty Awards Banquet this summer in Long Beach. We're looking for one-of-a-kind "big ticket" items so our avid auctioneers can once again make fools of themselves for the sake of breed education and welfare. And we need lots and lots of Border art, memorabilia, dog supplies, toys, and plain old-fashioned goodies for the Silent Auction.
Last year's auction in St. Louis set a new standard (over $10,000) and we're determined to bring in even more loot for our beloved BT's. So please start collecting items to donate to the event. Nothing is too big or too small, too silly or too staid. Donated items can be taken to the Specialty or mailed directly to Brenda Werbelow. Please open your hearts and your checkbooks. With your help and generosity we can all make sure this year's event will go down in BTCA history ... only please, please, please - NO FUR STOLES!
For Information:
Jim Fritzhand
(818) 205-9894
Send donations to:
Brenda Werbelow
1080 Verona Drive
Fullerton, CA 92835
(714) 477-3393
BWerbelow@compuserve.com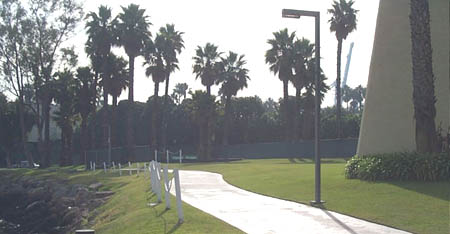 View of the hotel grounds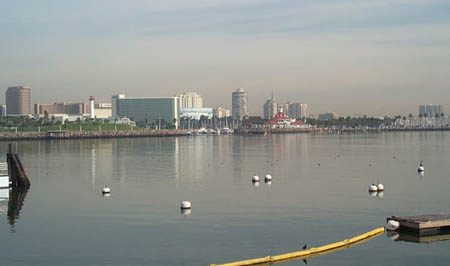 From the hotel, Long Beach across the Bay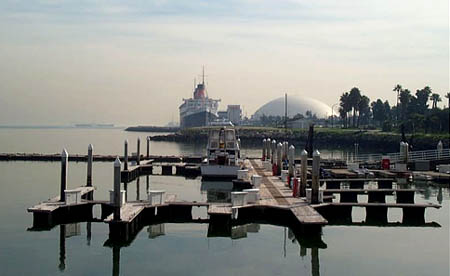 The Queen Mary from the hotel

home | calendar of events | trophy donations | raffle tickets